The Photo Album of Vanessa-Mae Mailing List Members


Page I | II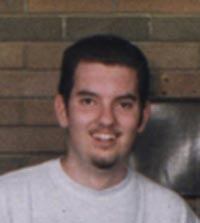 Shane Brandon
(Canada)
My name is Shane Brandon i am currently at the University of Toronto taking Paleaontology and dabbling a little in Computer Science. I am 22 turning 23 on the 26th of march. I live in Toronto, Canada and my major hobbies include sports, IRC, and music. I believe that i first discovered Vanessa about 2 - 3 years ago quite by accident. At the time I was enrolled in both Columbia House and BMG music clubs and in one of them had forgotten to send back the card in time (usually a Doh!) but recieved Vanessa in the mail and decided to give it a listen as to send it back would cost me $2 anyway. I loved it and in one of my many trips to one of the universities libraries decided to surf the net to find out more about her and discovered the vm-l. To tell you the truth I have no musical abilities but I do love to listen to music - which you may be able ot tell from my approx. 350 cds. I am currently taking a year off school to work and get alittle more initiative as I found it dwindling at the end of my last year. As you can probably tell I enjoy tv as well mostly MuchMusic and sitcoms such as Simpsons, Friends, and other relatively senseless tv :)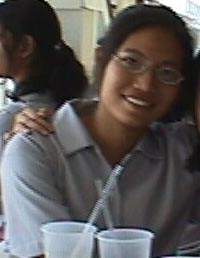 Priscilla Ann Wong
(Singapore)
My name is Priscilla Wong and I am currently studying in junior college which is actually A'levels, in Singapore. I am 17 this year. I will be taking my A's in the year 2000 and I hope to go to a university majoring in Psychology and Japanese Studies. I will have to be overseas after next year as psychology courses in the local varsity here is not at all established. But up till now, I still have no idea which school to be aiming for. So, for those who can help, please!! Thanx!

I first found out about Vanessa when I was in Grade 8. I got to hear her commercial about the release of 'The Violin Player' on radio at that time. I have always liked the violin since I was young and the style which VM expresses the use of the violin really impressed me and at that time, she was one of the few who actually did 'pop' violin and I decided to give it a try. After hearing it, I liked it very much and from then on,I always kept a lookout for her news and albums. And also plus the fact that she's born Singaporean, it made me feel good in a sense.

I had been a fan of VM for about 4 years before I subscribed to this list. It was way back last year when I first got the internet access and found out about this thing through surfing and after a year, I still have not regretted becoming a part of it and many thanx to those who have helped make this a successful one. As VM is not as popular here in Singapore, I have no idea about the other Asian countries, it is rare to actually hear about her, whether is it in the papers or on TV. Only during the festive seasons i guess, when she comes back to Singapore, then the local TV station will invite her to co-host programs, local interviews and so on. if not, she's actually unheard. I usually get all the recent news about her through this mailing list.

kathRyn Tomko
( Maumee, Ohio, United States)
I am seventeen years old. I live in Maumee, Ohio, United States. That is just outside Toledo and about an hour away from Detroit. I am a senior in high school and will be going to college next year. I have no clue what I want to study in college, unfortunately. :)

I play violin and marimba/xylophone and playing these two instruments keeps me very busy. I like skiing (like Vanessa) and rock climbing. When I am not playing music I am usually listening to it. I listen to many kinds of music, from rock to classical and many things in between.

A friend of mine got The Violin Player for Christmas several years ago. Both of us play violin, so she played the CD for me. At the time my youth orchestra was playing an orchestral arrangement of Tocatta and Fugue in d minor and I really loved the piece. I was also playing violin in my school's jazz band. When I heard someone playing electric violin on a favorite classical piece, I was really excited. Some of Vanessa's songs are a style that I don't normally listen to, but I really respect her for doing different things with the violin. I just love the violin and think it is an instrument for all styles of music and every time period, it's not outdated or old fashioned. It's exciting!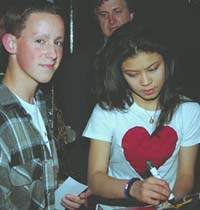 Tommy Newman

( The owner of Ultimate Vanessa-Mae Website, UK )
I live in the UK, nearish to London. I'm in my last year at school, studying for my A-levels and doing Physics, German and Maths. I'm gonna do Computer Science with German at University, not sure which yet though. I first saw Vanessa on TV in about 1995, she was doing a concert here in Reading soon after, and we went to that. I then looked on the internet for Vanessa-Mae and found that Frank was considering starting a mailing list, I told him I'd like to join and shortly after, the list started. I then decided to make my own Vanessa-Mae site, which has now shown to have been a major decision in my life! On the Vanessa-Mae aspect, having a site has enabled me to be known by Vanessa-Mae and get lots of exclusive info and news, hopefully sometime an interview, which I'm still working towards! I also taught myself how to make a web site, which has now lead to be doing it commercially for paying clients! And now I'm gonna do computer science at University! Pretty much all because of me making a Vanessa-Mae site I guess! There wasn't any other subject that I would have wanted to make a site about then! So I owe a lot to Vanessa!





Erwin

( Indonesia )





Julia Pingkan Buluran

( Indonesia )

I just can remark Vanessa that she's remarkable!





Frank Langbein

( The creator of the Vanessa-Mae Mailing List and the owner of The Magic of Vanessa-Mae Website, Germany )





Ching

( Netherlands )





Lin Enqi Sharon

( Singapore )

16 years old (student) - Favourite Song: Aurora





Joe Montgomery

( USA )

Joe Montgomery and Keiko Matsui in Chicago, Illinois (USA) after her concert on 5-10-98.





Rollin Burkholder

( Canada )

Retired in 1994 teacher, professional classical singer since age eight, father of two, grandfather of one and seven-ninths.
Plays piano, keyboard, organ and sax. Writes - music and fiction. Sings in two choirs, as well as solo work and MC entertainer.
Previous Page
If you've subscribed to VM-L or VM-L-DIGEST,
you can add your photograph on this page!

When submitting a photograph, please include a short phrase
which you would like to see next to the photograph.

E-mail us!