Herewith an article published in the April issue of a South African magazine called "Longevity" which is inspired by 'The Art and Science of Staying Healthy'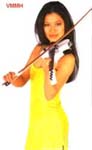 Around the world, Vanessa-Mae has kicked up a storm with her techno-acoustic sound. Now locals the have the chance to see the pint-sized Asian violin virtuoso perform when she gives six concerts starting this week in Gauteng. Sonya Naudé met the musician during a pre-publicity trip.
It is Friday the 13th. This would usually strike a discordant note. Not so when violinist Vanessa-Mae is at hand. She's on a whirlwind pre-publicity trip to South Africa, and we're lucky to score two hours out of her hectic work schedule.
 
The star arrives at our appointed venue in Parkview, Johannesburg, with a business manager, make-up artist, EMI representative and an entourage of bodyguards. Even with high heeled boots, she's tiny -- almost hidden from view among all the people cramming into the small studio. Dressed in informal, softly coloured leggings and sleeveless top, hair elegantly tied at the nape of her neck, Vanessa-Mae looks like any other affluent Asian girl her age. Certainly a different image to the stage persona.
 
Her handshake is firm and professional. And when she smiles, an endearing dimple appears on her left cheek, lighting up her face and making her appear even younger than her 19 years.
 
But for all her youth, it's clear that Vanessa-Mae is no push-over. A selection of clothing and accessories for the shoot is given the once over and coolly dismissed. "I wore these kind of hot pants when I was 15," she was overheard saying to her manager.
 
We've been forewarned that she likes to bring her own selection of clothing for shoots. So we quickly invite her to show us what she's brought along. It's an impressive collection of designer outfits. She selects an elegant yellow mini with spaghetti straps. It's glamorous yet, simple, befitting a concert violinist -- but cheeky slits on either side of the dress hint at an underlying rebelliousness.
 
"How do you want me" she says, striking a series of poses in front of the camera. She's confident, in charge -- but not arrogantly so. All this is old hat to her.
 
"She's got too much energy," her manager groans as we watch her in action. "We'll put in 16-hour days and she'll still be as fresh as a daisy at the end of it all."
 
With her glossy, waist-length mane of black hair, flawless skin and shiny brown eyes, she's the picture of good health. Her body is firm; athletic. Does she work out at a gym "I did join a gym once, but I ended up going only twice." She prefers action sport; her passions snow and water skiing. (She recently returned from a long skiing trip in the Andes -- "to celebrate the release of Storm and Classical Album 2".)
 
Throughout the shoot, Vanessa-Mae drinks only Evian water, while the rest of the crew downs mugs of thick filter coffee with heaps of sugar. She doesn't smoke or drink alcohol, but admits she won't say no to a "big, juicy cheeseburger". Not that she needs to watch her weight: she wears a dress size six! While the photographer changes his spool, Vanessa-Mae retires to a corner with her cellphone. She chats briefly to her mum, reassuring her that all's well. She'll he flying home to London later that afternoon -- "even though it's Friday the 13th," she teases affectionately. An only child, she's particularly close to her parents, both lawyers, "although mum practises only part-time now. She's my personal manager, too."
 
This is her first visit to South Africa. Has she formed any impressions? "Hardly. The schedule has been crazy. I've only really seen the inside of radio and TV studios, and they're like any other in the world. I did manage a visit to Soweto, though. That was really nice. I went to a school of music. The children had prepared some music especially for me -- it was very touching. I enjoyed making music with them. But I'm coming back to South Africa for a few performances in a few weeks', time. Maybe I'll see more then."
 
Can we expect anything unusual from her concerts in South Africa (As a climax to her Red Hot World Tour, Vanessa-Mae dropped out of the sky in St Moritz, Switzerland, circling above the heads of the audience [it was the first ever concert to be held on a frozen lake] before landing on skis in front of the stage.) "Nothing like that," she laughs. "It would be a little difficult in a concert hall." Nevertheless, the pint-sized bundle of energy admits that she likes to live dangerously -- and scare the wits out of her mother and her manager.
 
"My mother was in tears the day I decided to do it. It was a bit selfish, but I really wanted to try it. Life's so short. I like to inject an element of risk into things. I'm a Scorpio, given to taking things to the extreme -- but it has to be well planned." All she gives away is that she will be performing with her own rock band, as well as a small classical ensemble to reflect the different sides of the Vanessa-Mae story.
 
If her packed concerts overseas are anything to go by, it should be dynamite. At Zurich's Out in the Green Concert, she worked up the 50 000-strong audience to a 20-minute ovation. Apparently, it took a compère some 15 minutes to calm the crowd before Rod Stewart could start his performance.
 
Vanessa-Mae has been called the musical phenomenon of the '90s and some have compared her to Mozart and Mendelssohn as a "true child prodigy". She was born in Singapore and moved to London at the age of four, where she started her early music education on the piano and violin. After training as the youngest student of Professor Lin Yao Ji of the Central Conservatoire of China in Beijing and with Professor Felix Andrievsky of the Royal College of Music in London, she made her concert debut in London with an orchestra at the age of 10.
 
By the time she was 12, she had toured internationally as concerto soloist and recitalist and set a world record as the youngest ever to record the Tchaikovsky and Beethoven Violin Concertos.
 
She started experimenting with a combination of traditional acoustic violin and modern electric violin at 14, writing and performing new alternative violin music with popular appeal. EMI saw the potential, signing up the young violinist to record a unique pop and classical arrangement. They weren't disappointed. Her debut "techno-acoustic fusion" album, 'The Violin Player', has sold over three million copies, spun three hit singles and hasn't left the Top 20 Billboard Chart in the USA since its release in 1995. Her explosive new "pop" album, 'Storm', is expected to follow suit. (She provides back-up vocals on the album, too.)
 
While her alternative violin music has won her millions of fans throughout the world, Vanessa-Mae hasn't scorned her classical heritage. In fact, she views it as a challenge, performing and recording different versions of her techno-acoustic work in the classical side of her "double life". 'The Classical Album I', released in 1996, sold over 500 000 copies in the first few weeks of its release. 'The Classical Album 2 -- China Girl', inspired by music she composed for the reunification of Hong Kong and China, has just been released.
 
Her easy mix of pop and the classics has spawned criticism from serious music lovers. She has a response: "If a musician or an artist is brave enough to do something new, one has to expect a certain amount of controversy. In this world there will always be people who are afraid of something new, and feel threatened by things unfamiliar to them. The main thing is that millions of people love it." Nevertheless, there are many musicians who applaud her for raising the perception of the violin as a musical instrument.
 
What can we expect from Vanessa-Mae 10 years down the line, "I really don't know," she answers. "I honestly haven't thought that far. I'll always be musically involved. But I believe in going with the flow. I love "pop" and I'll probably continue within that freedom. It's always an adventure."
 
Someone signals Vanessa-Mae from behind me. It's time to vamoose. She's almost late for her next engagement. "Call me on my cellphone if you need anything else," she politely offers as she makes her way to the gate. Vanessa-Mae takes her exit in a white BMW, entourage in tow. The final curtain has fallen. Bravo!