The Butterfly Lovers Violin Concerto
( Liang Zhu )
Butterfly Lovers sound clip
Butterfly Lovers is one of my favorite chinese legend & composition of all time , it was written in 1959 by He Zhan Hao (b. 1933) & Chen Kang (b. 1935), it's certainly the most recorded chinese work of the last fifty years.

For this reason, my preferred version features Vanessa-Mae & The London Philharmonic Orchestra under Victor Fedetov from The Classical Album 2 ( China Girl ) on EMI 7243 5 56483 2 7 (with Violin Fantasy on Puccini's ' Turandot ' & Happy Valley the 1997 Re-Unification Overture ). She dedicated this album to the memory of Tan Lip Kee ( Vanessa's grandfather ).

The melodies for the Butterfly Lovers concerto are derived from a Shaoshing - Shanghai opera ( Zhejiang province of China ) on the same subject (a popular Chinese variation of the "star-crossed lovers" mythology): the story of Zhu Yingtai & Liang Shanbo a 1958 film version of the same story was also an inspiration). Like many Chinese programmatic concerti, this single-movement score owes more than a passing debt to another, rather better known, musical tale of Romantically doomed love: Pjotr Ilyich Tchaikovski's fantasy overture Romeo & Juliet ... but their love plunged them into fatal tragedy. Unlike Romeo and Juliet whose family feud prevented them from coming together, the social prejudice of the day set Liang Shanbo and Shu Yingtai apart. Put more bluntly: He & Chen seem to have lifted Tchaikovski's modified sonata format for their own piece, lock, stock & swoon; no doubt quoting Stravinksi - "A good composer doesn't borrow - he steals" - every step of the way....

The concerto is built around three acts : Falling in Love, Opposition to an Arranged Marriage & Transformation into Butterflies. The three episodes flow continuously; & are linked by a recurring (& gorgeous) love theme... first heard as a string solo; this theme slowly flitters around the orchestra. After the final, magical transformation, the concerto shimmers into silence, like a beautiful mirage lost in a desert of cruel fate....


The story behind the concerto dates from the Jin Dynasty (265-420 AD).
&nsbp;
I have filled the timer/counter of "Vanessa-Mae's Butterfly Lovers Violin Concerto CD" into this story , so you can follow it when you read this story !

The first act : "Falling in Love"
( 00:00 - 01:17 ) The scenes is set at the start in the middle of the 4th century in a little village in South China. ( 01:18 - 02:04 ) The opening violin theme of lyrical love evokes a springtime in the countryside south of the Yang Tse River.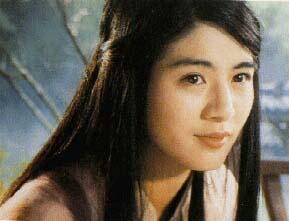 The heroine, Zhu Yingtai who loves butterfly , was daughter of a rich families, wants to study; but is prevented by a tradition which barred girls from formal education... like Yentl, she can only succeed in her wish by disguising herself as a youngman. Zhu leaves home and goes to study in Hangzhou.

While at school, she makes the acquaintance of Liang Shanbo, a fine young man from a improverished family.
The music suggests their first meeting with a tender cantabile duet by cello & violin ( 02:05 - 04:51 ). They spend three happy years together at work and at play , illustrated musically by a light-hearted Rondo ( 04:52 - 07:35 ) .

Shanbo composed & played a song ( the main theme ) with a Chinese traditional instrument for Zhu. Zhu falls in love with Shanbo; & without revealing her true identity, she invites him to visit his home & meet his younger sister (Zhu herself).
Throughout all this time , Shanbo is completely oblivious to the fact that Zhu is in fact a young woman falling hopelessly in love with Zhu.

When the times comes for them to return to their respective village , Zhu tries in vain , to let Liang know the truth . Shanbo falls in love with his classmate's female form; & promises to return to marry her... The ending section of this part of the concerto is at a slower tempo ( 07:36 - 09:03 ) and conveys poignantly the sorrowful mood in which they leave each other.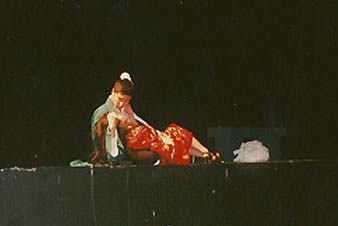 The tragedy begins to unfold in the second act "Opposition to an Arranged Marriage" . When Zhu returns home , her father had already arranged a different suitor for her and prepares to marry her off to a powerful noble's son .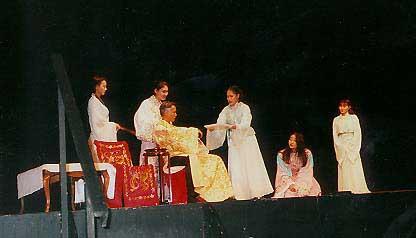 She protests vehemently and enrages her father. The row between father and daughter is represented by the conflict between the angry tutti theme and the anguished solo violin theme.

By the time Shanbo rushes to her home to seek her hand in marriage , it is too late. Her father's will has prevailed and she is betrothed .
The marking "lacrimoso" begins in the next section of music ( 09:04 - 10:19 ). The plantive cello and the tremulous violin engage in one of the most touching duets ever written.

Shanbo starting to write a letter ( unfinished ) and send it to Zhu. At home , Zhu also trying to write a lyric for Shanbo's song. ( 10:20 ) What was worse, they lied to her poor lover (Shanbo) that Zhu had died of a serious illness, upon which he killed himself in his own home . It is not long before Shanbo succumbs and dies of a broken heart. The variations build towards a frenzy as they project the picture of a young man driven distraught by lovesickness and when the dies , the violin almost screams in despair , representing Zhu's trauma upon hearing of his death.




To protest the unjustice she decided to join her lover in another world. She pretended to agree to the arranged marriage but on condition that the wedding procession must bypass her lover's graveyard. They were coming along when she all of a sudden jumped out of the sedan chair and rushes to Shanbo's tomb , ( with a dramatic crash at the climax of the tragedy ) where she bitterly condemns the feudal mortality that has thwarted their love ( 19:45 ).

Here is the words that Zhu said to Shanbo's tomb :
"Shanbo , you played the song for me ..............I've written the lyrics on the unfinished letter you wrote to me " :



( 24:43 ) Show up in silence
( 24:48 ) Share cup of water with you
( 24:53 ) Gentle with deep affection....emits my hidden love


( 25:02 ) The fatal love couldn't last
( 25:07 ) As well as the dream of butterflies

( 25:11 ) To pay you
( 25:14 ) Life after life
( 25:17 ) Some butterflies flying over thousand of mountains

Show up in silence
Share cup of water with you
Gentle with deep affection

Emits my hidden love
No matter it is a fate of dream of butterfly
Give you my life , this life , and past life

Liang oh, Liang Shanbo .....
Spend our present and past lives together
Passing through thousand of years together

( 25:25 ) "Shanbo , I've finished what I wanted to say "



The heavens take pity , and , the tomb opens up itself as if to receive her. She throws herself in to join her loved one in death.

The last act "Transformation into Butterflies" opens with an orchestral reprises of the love theme creating a nostalgic and mystical atmosphere. The suggestion of this being th end of the storiy is interrupted by a quiveringly delicate and beautiful return of the solo violin .

What people saw next was a pair of beautiful butterflies flying out of the opening, dancing happily here and there in the free air.
The solo violin almost flutters then takes off in flight with the orchestra : it is clear that our young lovers have returned as butterflies united in an eternally happy dance among the flowers.

Unto this day people still believe that the two butterflies were the undaunted spirits of the young lovers. Hence the legend of "The Story of Butterfly Lovers".




~^~^~^~^~^~^~




The original is the violin concerto by He & Chen; while the version included in the forthcoming East-West Philharmonic Orchestra concert in Sydney is for er hu (a two-stringed Chinese folk instrument which looks oddly like a sledgehammer) & western orchestra, is a later arrangement by Chen Gang. There are also two versions - one for gao hu (a higher pitched sibling of the er hu) & Chinese orchestra; the other for zheng & (Chinese?) strings - by He Zhanhao; & a choral cantata version (arranger unknown). There's even a version for string quartet... though whether this last version .

At the time the original concerto was written, both composers were students at the Shanghai Conservatory of Music.

He Zhanhao was born in Zhuji in Zhejiang province; & joined the Zhejiang Provincial Cultural Troupe in 1950, working in the troupe's orchestra as a violinist, yangquin & percussion player. He entered the Shanghai Conservatorium in 1957; where he experimented with a distinctly Chinese style of violin playing, transcribing a number of er hu works for the violin in the process.

Chen Gang was born in Shanghai. After studying with his father (a popular Shanghai composer), he entered the Shanghai Conservatorium in 1955. Both composers studied with the distinguished PR-Chinese composer, Ding Shande b. 1911; & probably best known for his programmatic epic, The Long March symphony)