The Red Hot Vanessa-Mae Hall Of Fame
Honors, Awards and Citations
We would like to say a special "Thank You" to everyone who has honored The Red Hot Vanessa-Mae Homepage with their award. They are all very special to us and we truly appreciate the honors. Thank you!

1. Music Award from Massive Academic Center




Sun, 01 Nov 1998 02:23:45 +0200

Congratulation, you won the music award, for your site:
http://www.vanessamae.com/
out of 576 competitors for October's awards.

2. From "Women Celebrities"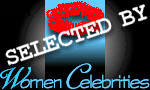 Tue, 06 Oct 1998 15:22:22 +0100

3. From "The Music TOP 10 Sites Award"





Fri, 25 Sep 1998 10:32:44 -0400

CONGRATULATIONS!!

After being nominated and reviewed, your site has been selected to receive the Music TOP10 SITES AWARD which is granted only to selected sites, based on:
outstanding graphics
informative context
technique implementation and
HTML structure

Once, again, congratulations for your excellent site!

Regards,
Music Top10 Sites Team.

4. From "Celebrity Site of the Day"





Sat, 12th Sep 1998 21:31:37 +0200

Congratulation! Your site: "The Red Hot Vanessa-Mae Homepage" chosen as Celebrity Site of the Day on September 12th, 1998

| | |
| --- | --- |
| 5. | From: Solutions for Networking and InterNet-working & Sports News International Network |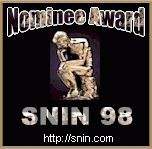 Fri, 24 Jul 1998 20:14:16 +0300

After an extensive review of your site by our awards committee we found it to be creative and full of content.

Congratulations you have won the "The SNIN Nominee Award."
After viewing your site we believe what you offer at least the minimum of our Requirements of what to be a useful Service to the Internet community.


Your site is easy to use, friendly and graphically pleasing !
Overall we believe it belongs in our list of award nominee winners.
Your site only enhances the originality of our internet community.

I hope this encourages you to keep up the great work, in order to be able to compete and continue our award program.

As you have noticed, that what characterize SNIN Award Program is its "seriousness" We are connected to the Internet 24 hours a day so we don't like keeping the sites who deserve winning the award waiting to know the result.

Keep up the good work, hopefullt to win the SNIN Diamond Award!

Regards.
Fredi Rankol (Judge in the court of Law)
Brian Hatcherg (Master Graphic Designer)
Jaren Magnusson (System & Network Engineer)

6. From "Artistic Reality's Cool Reality Award" for elegant graphics and content




Mon, 13 Jul 1998 11:27:22 -0800

.Cool Reality Award. - You Won!

Congratulations on your site! Your site has been awarded the .Cool Reality Award. This award is given to sites that have elegant graphics, content, and a cool sense of being about it.
We really enjoy your site. Keep up the good work!

Have a good day!
- Jon Osbeck

.Artistic Reality.
URL: http://www.ArtReality.com
E-Mail: AcmeArts@EarthLink.Net
Voice #: 949.548.8385
ICQ #: 9770940



7. From "Nielsen Web Sites & Business Graphics"




Tue, 18 Aug 1998 22:23:29 -0500

We enjoyed surfing your site, and we're sure everybody else will too.

You have won the Bronze Award!

Thank you.
Eric Nielsen
Nielsen Web Sites & Business Graphics
http://www.nws-bg.com
nwsbg@nws-bg.com

• Graphic Design
• Technical Illustration
• Graphic/Digital Illustration
• Web Site Designing
• Web Site Re-Conditioning
• Banner Creation
• Promotional Materials



8. From "StarSaber's Award "




Thu, 27 Aug 1998 11:59:40 -0500

CONGRATULATIONS, MAYSAN!
Your web site has won the StarSaber's Award.

My compliments on a job well done.

George Rowe
StarSaber's Award

9. From "Midi Universe Gold Award"






Mon, 6 Jul 1998 12:41:52 +0200

Congratulations! Your site has been chosen to receive the Golden Midi Award. We were impressed with the work you put into your MIDI.





10. From "Midi Net Awards" for the greatest Music Sites





Sun, 30 Aug 1998 11:44:52 +0200

Hi, congratulations ur site won the absolute MidiNet Award!
Enjoy !
Bobby
http://perso.wanadoo.fr/midinet
Sonorisez vos pages Web !
ICQ UIN : 3573442
Next Page